About Us
With over a decade of experience, Wildcard was formed in 2003 by Geoff Needham. When established, Wildcard Software was a pioneer in online systems, with web based management applications. At the time there was no broadband so as well as learning to convince potential users of the merits of an online system, we learned a lot about how to write efficient and user friendly systems.
Today, Wildcard Software continues to be at the forefront of applications service providers. We provide systems others are still thinking about and we provide them at affordable prices and user friendly.
We currently have four applications which service over 4,000 clients throughout Ireland, United Kingdom, Europe and North America. Our systems cover life insurance, general insurance, tour operator industries, printing industries and architecture.
Wildcard Software employs a highly motivated, long-standing workforce with technical backgrounds, which enables Wildcard to build strong relationships and react quickly to our customer's needs.
Meet some of the people you will be dealing with:
Anna
Senior Sales Executive
Anna has over 3 years experience with Printlogic and knows every aspect of the the system. She loves nothing more than a good detailed demo of the system.
She is currently studying for a Business Management Degree which takes up most of her spare time.
Joe
Senior Sales Executive
Originally from Lithuania, Joe came to Ireland in 1999. He worked for many years in the print industry before finding himself in a sales role selling Printlogic.
In his youth Joe was a serious windsurfer (National U18 champion) and whilst he doesn't get out now as much as he would like, he is still a keen fan of watersports and golf.
Jen
Senior Sales Executive
Jen started with Wildcard in 2018 & comes with over 10 years of experience in the print industry. She is currently studying part time for her Honours Degree in Business Management. In her spare time she enjoys travelling, sky diving and hiking!
Rachael
Senior Sales Executive
Rachael was born in Mexico but moved to Ireland when she was two years old. She joined Wildcard in 2016 and has brought a wealth of sales experience with her. She comes from a retail sales background and has quickly got to grips with the software industry. Renowned for her "can do ' attitude and her exceptional customer service focus. Rachael enjoys cooking Indian food in her spare time.
Crystal
Customer Service Executive
Crystal joined Wildcard in 2018, and has worked in customer service for over 13 years. With a degree in Languages from UCV (Venezuela), she is interested in learning about culture and traditions from different places. She enjoys teaching English as a foreign language, traveling, and listening to good music.
Alexis
Technical Support
Alexis joined Wildcard in 2018. He has a Bachelor's degree in Computer Science from Universidad Central de Venezuela and 30 years experience working in the IT industry. In his spare time he teaches tennis & likes running marathons.
Conor
Technical Support
Conor joined Wildcard in 2016. He is part of the Technical Support team & has 10 years experience working in the printing industry. In his spare time he enjoys playing tag rugby & is a fan of many sports primarily soccer. He is a big Liverpool fan.
Grant
PHP Developer
Grant is originally from South Africa and came to Ireland in 2016. In his spare time he enjoys motor sport, motor cycling in particular and woodworking.
Currently Grant is involved in development on the Smartboke system and ArctechPro.
Mark
Senior Sales Executive
Mark joined Wildcard in 2017 and has brought over 10 years sales experience with him. Previously he studied Journalism & Communication studies in DCU. He enjoys attending gigs and festivals and is a fan of Gaelic Football. He is a volunteer at Dogs Trust re-homing centre and likes to help out whenever he can.
Glenn
Cleaner
Glenn joined the ArctechPro team in 2017. He enjoys long walks on the beach, candlelit meals and is a Gemini.
Jacek
Technical Support
Jacek joined our support team in 2015. He has a vast knowledge of Printlogic system, providing technical assistance to our customers. Jacek has a Masters degree in computing from the Technical University of Wroclaw (Poland) and over seven years experience with programming and developing computer systems.
Anibal
Software Developer
Anibal is our senior software developer with vast knowledge about Printlogic system. He is playing a key role in the design, installation, testing and maintenance of our software systems.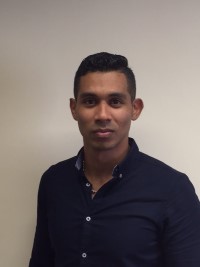 Philip Dowling
Operations Manager
Philip joined Wildcard in 2011. He has a Masters degree in computing from DCU, a BA Mod in Genetics and computing from Trinity College Dublin and over 20 years experience programming and developing systems for the web. Philip is primarily involved with managing the development team and developing our systems but also provides support to our customers via telephone calls, email and live support.
Geoff Needham
Executive Director
Geoff began his career in insurance where he studied to become an actuary. As part of his actuarial training he was introduced to programming, first in MS-DOS, then VB-DOS then Visual Basic. Having passed most but not all of the professional exams he decided programming was much more interesting and went on to establish Wildcard Software in 2003.
Outside of the office he likes winter sports, mountain biking and soccer.